Converting to Smart Airbnb in Malaysia
Airbnb has been successful in penetrating into the accommodation service industry, gaining trusts from hosts and guests. Malaysia is no exception.
The reason traveler often seek for an Airbnb rather than a hotel usually because of low cost, convenient location, household amenities, coziness of a home, and most importantly it motivates them to experience the local experience.
And on the other hand, more and more people are opening up their private spaces for Airbnb and becoming a host. Some even made this a professional full time business .
But is renting out Airbnb a good business?
Yes and no.
Yes, because demand for travelers to book an Airbnb space is increasing.
No, because a big chunk from rental goes to paying electricity bills. Most of the host says that their profit margin could increase much more if only the electricity usage is used more efficiently.
With the rapid advancements of technology, forward-thinking hosts are implementing smart technology and converting their Airbnb units into a Smart Home and thus a Smart Airbnb to increase profit by gaining control or automating lights and electrical appliances to minimize electricity wastage.
What is Smart Home Technology?
The word "Smart" is popping out nearly everywhere and new products out in the market recently are categorized as "Smart". But for this article, let's pick the essential devices that makes a smart home.
App-controlled smart door lock
Smart TVs
App-controlled lights
Various sensors that are able to control appliances
Wireless blinds and curtains
App-controlled security and alarm systems
With all the mentioned above, it is enough to make a smart home.
What is Smart Airbnb?
We define a Smart Airbnb as a space whereby it is able control energy consumption by itself automatically the moment a guest steps into the unit as well as the host is able to manage locks and electricity remotely via a smartphone or an app.
Sounds complicated?
It's not at all. Let us break it down into parts and reveal what a full Smart Airbnb can do for both guests and hosts.
Smart Lock Keyless Entry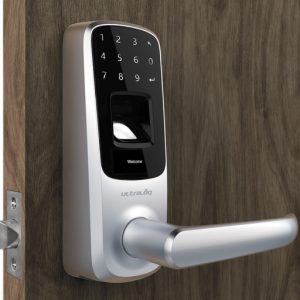 From the time a successful booking has been done in Airbnb, hosts can generate a temporary passcode that valid only within the staying period of their upcoming guest and share the code with the guest. The guest can then arrive and check into the unit at their convenience rather than having to meetup with the hosts or set a specific time for the meetup and both try their best to arrive on time.
As for checking out, guests can leave anytime before check out time without worrying of handing over keys to the host or forgetting to lock the door. Smart locks will lock the door automatically until the next guest arrives.
Automated Greeting
Once checked in for the first time, guests are greeted with automatic lights and air conditioning to the suited temperature when they step into the unit. Without having to look for the switches and remote controller to turn on everything manually.
Energy Saving
During the staying period, guests can leave for the day without worrying about turning off anything before leaving. Smart sensors will then determine that no presence of guests and turn of air conditioning or lights automatically. Alternatively, hosts can choose to turn of refrigerator as well after guests have checked out to save even more electricity.
Additional Features
Voice control and home entertainment can also be provided to the guests to improve staying experience as it allows guests to control appliances by using just voice command as well as interactive entertainment when they're back in the house. This could also improve host rating on the Airbnb site.
The Essentials
We have gone through the basic features of a full Smart Airbnb experience for both host and guest. But what are the essential things that we need to ensure cost effectiveness during conversion?
Smart Locks
Smart Wireless Hub
Smart Sensors
These are the only things you need in order to convert your current Airbnb into a Smart Airbnb. Of course, different company provides different types of system at different costs.
This article is written based on the system provided by Avenirlab Smart Solutions and price starts from as low as RM2,990 to get things started.
Visit this site to get more information and details on the system provided.